The Eldritch Dark
The Sanctum of Clark Ashton Smith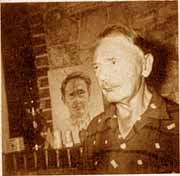 Clark Ashton Smith (1893-1961), perhaps best known today for his association with H.P Lovecraft and the Cthulhu Mythos, is in his own right a unique master of fantasy, horror and science-fiction. Highly imaginative, his genre-spanning visions of worlds beyond, combined with his profound understanding of the English language, have inspired an ever -increasing legion of fans and admirers.
For most of his life, he lived in physical and intellectual isolation in Auburn, California (USA). Predominantly self-educated with no formal education after grammar school, Smith wore out his local library and delved so deeply into the dictionary that his richly embellished, yet precise, prose leaves one with the sense that they are in the company of a true master of language.
Though Smith primarily considered himself a poet, having turned to prose for the meager financial sum it rewarded, his prose might best be appreciated as a "fleshed" out poetry. In this light, plot and characters are subservient to the milieu of work: a setting of cold quiet reality, which, mixed with the erotic and the exotic, places his work within its own unique, phantasmagoric genre. While he also experimented in painting, sculpture, and translation, it is in his written work that his legacy persists.
During his lifetime, Smith's work appeared commonly in the pulps alongside other masters such H.P. Lovecraft, Robert E. Howard, August Derleth, and E. Hoffmann Price and like many great artists, recognition and appreciation have come posthumously. In recent decades though, a resurgence of interest in his works has lead to numerous reprintings as well as scholarly critiques.
The Eldritch Dark is a site to facilitate both scholars and fans in their appreciation and study of Clark Ashton Smith and his works.
Re: Clark Ashton Smith Documentary!
14 Aug, 2018 7:25AM by Oldjoe
"The trailer looks great - can't wait to see the full documentary!… "
Re: Clark Ashton Smith Documentary!
13 Aug, 2018 5:44PM by dhussey
"CLARK ASHTON SMITH: THE EMPEROR OF DREAMS, directed by Darin Coelho Spring, will be released this fall by Hippocampus Press. A special 30-minute preview will screen at the H. P. Lovecraft Film Festival in Providence, RI on August 19th, introduced by Donald Sidney-Fryer. Here's the first trailer!

link … "
Guessing at "Third Episode of Vathek"
10 Aug, 2018 6:33AM by Platypus
"So I had read William Beckford's Vathek and the first of the Episodes of Vathek, but not the second or third. I had read most of Clark Ashton Smith's work, but had not yet read his version of the "Third Episode of Vathek". I thought I had a fair sense of the style… "
Re: Did A. Merrit's "People of the Pit" influence Lovecraft's "The Mound", and "At the Mountains of Madness"?
6 Aug, 2018 7:05AM by Platypus
"Underworlds, usually with some hint of "civilization", and almost always horrific, have been touched upon in various HPL stories, and not just the two you mention above:

"The Transition of Juan Romero"; "The Rats in the Walls"; "The Festival"; "The Dream Quest of Unknown Kadath"; "Arthur Jermyn"; "Imprisoned with the Pharaohs"; "The Thing on the Doorstep";… "
1 Aug, 2018 11:47AM by Kipling
"Platypus Wrote:
-------------------------------------------------------
> Another early-draft issue ...
>
> HPL has a tendency towards the overuse of italics
> for emphasis (which of course would be underlining
> in manuscript). This flaw is especially prominent
> in his early drafts; but tends to correct itself
> in later drafts and published versions. That the
> italics never seem to disappear… "