The Eldritch Dark
The Sanctum of Clark Ashton Smith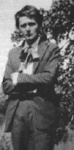 Clark Ashton Smith (1893-1961), perhaps best known today for his association with H.P Lovecraft and the Cthulhu Mythos, is in his own right a unique master of fantasy, horror and science-fiction. Highly imaginative, his genre-spanning visions of worlds beyond, combined with his profound understanding of the English language, have inspired an ever -increasing legion of fans and admirers.
For most of his life, he lived in physical and intellectual isolation in Auburn, California (USA). Predominantly self-educated with no formal education after grammar school, Smith wore out his local library and delved so deeply into the dictionary that his richly embellished, yet precise, prose leaves one with the sense that they are in the company of a true master of language.
Though Smith primarily considered himself a poet, having turned to prose for the meager financial sum it rewarded, his prose might best be appreciated as a "fleshed" out poetry. In this light, plot and characters are subservient to the milieu of work: a setting of cold quiet reality, which, mixed with the erotic and the exotic, places his work within its own unique, phantasmagoric genre. While he also experimented in painting, sculpture, and translation, it is in his written work that his legacy persists.
During his lifetime, Smith's work appeared commonly in the pulps alongside other masters such H.P. Lovecraft, Robert E. Howard, August Derleth, and E. Hoffmann Price and like many great artists, recognition and appreciation have come posthumously. In recent decades though, a resurgence of interest in his works has lead to numerous reprintings as well as scholarly critiques.
The Eldritch Dark is a site to facilitate both scholars and fans in their appreciation and study of Clark Ashton Smith and his works.
Hippocampus Press
Clark Ashton Smith, H. P. Lovecraft, Ramsey Campbell, M. R. James, M. P. Shiel, Lord Dunsany, Algernon Blackwood, and a whole lot more.
Hippocampus Press
Ye New Annotated H. P. Lovecraft
19 Sep, 2014 11:14AM by wilum pugmire
"Got an email a couple days ago from Norton that my two copies of THE NEW ANNOTATED H. P. LOVECRAFT have been shipped. This surpris'd me as I didn't think the book was to be releas'd until next month. Norton sent me ye ARC of the book, but I was able to read… "
4 Sep, 2014 1:09PM by Ancient History
"Found a new one today...

Aero into the Aether (1979) ["Nightmare of the Lilliputian" (poem)]
A surrealist independent comic by Hal Rammel, from Black Swan Press. Includes a two-page adaptation of CAS' poem "Nightmare of the Lilliputian" (by permission of Arkham House). B/W… "
Re: NEW BOOK (forthcoming from Hippocampus): David Park Barnitz's "Book of Jade"
30 Aug, 2014 4:59AM by cataclib
"I'm very hapy to learn that!

Speaking of obscure and decadent forgotten poets, another one who deserves at least as much attention as Barnitz is Count Stenbock.

His complete works in poetry was very rare and extremely expensive, but a new edition of all his poems are to be republished soon thanks to the effort of David… "
Re: NEW BOOK (forthcoming from Hippocampus): David Park Barnitz's "Book of Jade"
18 Aug, 2014 2:28PM by Ancient History
"I am greatly indebted to you for the loan of the Book of Jade, which I will return in a week or two. You are right about the mortuary poems being the best: some of them, such as the "Sonnet of the Instruments of Death," "Sepulchral Life" etc. are truly impressive, and, it seems to… "
NEW BOOK (forthcoming from Hippocampus): David Park Barnitz's "Book of Jade"
18 Aug, 2014 11:12AM by Mikeabo123
" link

Dear CAS aficionados:

I am currently at work on a new edition of Park Barnitz's legendary (and mostly obscure) Book of Jade, a volume of unrelentingly morbid and nihilistic verse that CAS, HPL and co. were very fond of. Written when Barnitz was still a student at Harvard, and published shortly before his death in… "