The Eldritch Dark
The Sanctum of Clark Ashton Smith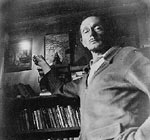 Clark Ashton Smith (1893-1961), perhaps best known today for his association with H.P Lovecraft and the Cthulhu Mythos, is in his own right a unique master of fantasy, horror and science-fiction. Highly imaginative, his genre-spanning visions of worlds beyond, combined with his profound understanding of the English language, have inspired an ever -increasing legion of fans and admirers.
For most of his life, he lived in physical and intellectual isolation in Auburn, California (USA). Predominantly self-educated with no formal education after grammar school, Smith wore out his local library and delved so deeply into the dictionary that his richly embellished, yet precise, prose leaves one with the sense that they are in the company of a true master of language.
Though Smith primarily considered himself a poet, having turned to prose for the meager financial sum it rewarded, his prose might best be appreciated as a "fleshed" out poetry. In this light, plot and characters are subservient to the milieu of work: a setting of cold quiet reality, which, mixed with the erotic and the exotic, places his work within its own unique, phantasmagoric genre. While he also experimented in painting, sculpture, and translation, it is in his written work that his legacy persists.
During his lifetime, Smith's work appeared commonly in the pulps alongside other masters such H.P. Lovecraft, Robert E. Howard, August Derleth, and E. Hoffmann Price and like many great artists, recognition and appreciation have come posthumously. In recent decades though, a resurgence of interest in his works has lead to numerous reprintings as well as scholarly critiques.
The Eldritch Dark is a site to facilitate both scholars and fans in their appreciation and study of Clark Ashton Smith and his works.


PDF prospectus for The Black Abbot of Puthuum by Clark Ashton Smith
Re: pest control greater kailash @ http://pest-control-delhi.pestcontrolindelhi.com/pest-control-in-greater-kailash.html
4 Jul, 2015 9:10AM by wilum pugmire
"I'm thankful to whoever has been so prompt in removing these annoying spam posts. Hopefully ye offenders have had their accounts deactivated as well.… "
Re: all these damnable pests that keep cropping up on this forum
4 Jul, 2015 6:34AM by jimrockhill2001
"OK, I contacted one of your recommended pest control services, and now I expect to see you and all the rest of the spammers who have infested this site curled up on the floor dead. If that is not so, I hope for a rapid and polite refund.… "
pest control greater kailash @ http://pest-control-delhi.pestcontrolindelhi.com/pest-control-in-greater-kailash.html
4 Jul, 2015 4:04AM by Devil2
"Making a Choice on the Reasonable & Reponsible Pest Management Agency

Soon after posing these queries in your prospective companies, you may also desire to accumulate a number of estimates pertaining to comparison. Despite the fact that cost is significant, don't enable that issue only choose recognise the business you decide on – just one organization… "
4 Jul, 2015 4:03AM by Sheryl St.
"I love this website. Such a great help with all my assignments for topessaywriter.org. So glad I found you, guys!… "
30 Jun, 2015 2:10PM by wilum pugmire
"I enjoy'd his friendship and being on panels with him, as he always made them lively. I will miss him, and send my fond regards to his family.… "