The Eldritch Dark
The Sanctum of Clark Ashton Smith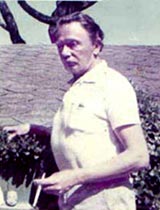 Clark Ashton Smith (1893-1961), perhaps best known today for his association with H.P Lovecraft and the Cthulhu Mythos, is in his own right a unique master of fantasy, horror and science-fiction. Highly imaginative, his genre-spanning visions of worlds beyond, combined with his profound understanding of the English language, have inspired an ever -increasing legion of fans and admirers.
For most of his life, he lived in physical and intellectual isolation in Auburn, California (USA). Predominantly self-educated with no formal education after grammar school, Smith wore out his local library and delved so deeply into the dictionary that his richly embellished, yet precise, prose leaves one with the sense that they are in the company of a true master of language.
Though Smith primarily considered himself a poet, having turned to prose for the meager financial sum it rewarded, his prose might best be appreciated as a "fleshed" out poetry. In this light, plot and characters are subservient to the milieu of work: a setting of cold quiet reality, which, mixed with the erotic and the exotic, places his work within its own unique, phantasmagoric genre. While he also experimented in painting, sculpture, and translation, it is in his written work that his legacy persists.
During his lifetime, Smith's work appeared commonly in the pulps alongside other masters such H.P. Lovecraft, Robert E. Howard, August Derleth, and E. Hoffmann Price and like many great artists, recognition and appreciation have come posthumously. In recent decades though, a resurgence of interest in his works has lead to numerous reprintings as well as scholarly critiques.
The Eldritch Dark is a site to facilitate both scholars and fans in their appreciation and study of Clark Ashton Smith and his works.
Witchery: A Duo of Weird Tales [Kindle Edition]
Here are two new novelettes that are eerie gems of fantasy in a classic tradition. BLACK ART IN VYONES and WILDBLOOD AND THE WITCH WIFE both feature characters with unsuspected origins in the darkest reaches of the unknown. The author's introduction describes how the stories came to be written, and incidentally discusses recent developments in the field of weird fiction.
5 Feb, 2016 10:56AM by Minicthulhu
"Hi,

Does anybody know about a classic horror story that is half-forgotten or unrightly ignored and which should deserve more attention?

I would nominate:

The Soul-Hunter, Aleister Crowley, 1908
The Return, Robert Murray Gilchrist, 1896
The Proxy, John Metcalfe, 1926
Silas Weir Mitchell, The House Beyond The Prettymarsh, 1910
The Hole Of The Pit, Adrian Ross, 1914


P.S.: To be more specific, by… "
5 Feb, 2016 10:37AM by Minicthulhu
"A few years back, I read The Red Lodge and The Ghost Hunt and was unimpressed at all.… "
4 Feb, 2016 8:56AM by wilum pugmire
"I adore Whitehead and his fiction, and I love his solid friendship with HPL. I paid slight tribute to him by basing a character on him in my story, "Ye Unkempt Thing," although my characters any of Whitehead's dignity.… "
4 Feb, 2016 6:49AM by Ancient History
"I'm rather fond of Henry S. Whitehead, a pulpster that was contemporary with Lovecraft, Clark Ashton Smith, Robert E. Howard & co. at Weird Tales and Strange Tales, and who is today mostly known for his contributions to early voodoo stories and occult detective Canevin. For anyone interested in learning a bit more about him,… "
Re: Favorite weird and supernatural moments in literature.
3 Feb, 2016 7:14PM by Sawfish
"In "The Double Shadow", the repetition of the fate of each of the two preceding participants in the invocation, one of which was dead--a mummy, and one would think past all mortal threat or fear--was very very threatening and disturbing.

The is no surcease...no escape.… "