Genius Loci Venus
Frederick J. Mayer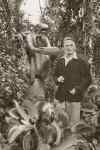 Once a cementary
now it's gone.
Yet under moon
sensuous moon
a lunar sense
crescent new born
jugular cusp
fangs call you
beyond your sleepingness
in the dark
to that soiled spot
sealed with a kiss
genius loci
simulacre
goddess venus
fly trapped blood,
hear the erotic scream.
Again, this was influenced by CAS' short story "The Genius Loci" in its original hardback issue. Started back when I was checking out sight around his Auburn home and coming together during a moon spawn night on South Korea's NamSan ("South Mountain"), whose forest is where I reside near-by and often wander during the very late/ early morning.