Lost Worlds: The Journal of Clark Ashton Smith Studies #1
Periodicals in the Bibliography of Clark Ashton Smith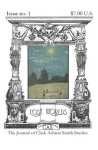 Edited by: Scott Connors
Seele Brennt Publications, US: (29 Mar 2004)
Perfect Bound softcover chapbook, Size: 5 ½ x 8 ½, Length: 40pgs, $7.00
Table of Contents:
"Eblis in Bakelite" by James Blish.
"James Blish versus Ashton Smith: to Wit, the Young Turk Syndrome, a riposte" by Donald Sidney-Fryer.
"The Poetics of Morbidity: The Original Text to Clark Ashton Smith's The Maze of Maal Dweb and Other Works First Published in The Double Shadow and Other Fantasies" by Jim Rockhill.
"Who Discovered Clark Ashton Smith?" by Scott Connors.
"Reviews" include CAS' A Rendezvous in Averoigne and The Emperor of Dreams by Ronald S. Hilger as well as Donald Sidney-Fryer's Songs and Sonnets Atlantean by Philippe Gindre.