Lost Worlds: The Journal of Clark Ashton Smith Studies #2
Periodicals in the Bibliography of Clark Ashton Smith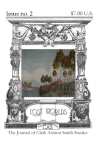 Edited by: Scott Connors
Seele Brennt Publications, US: (Mar 2005)
Perfect Bound softcover chapbook, Size: 5 ½ x 8 ½, Length: 40pgs, $7.00.
Table of Contents:
"Communicable Mysteries:The Last True Symbolist" by Fred Chappell
"Brave World Old and New: The Atlantis Theme in the Poetry and Fiction of Clark Ashton Smith" by Donald Sidney-Fryer.
"Clark Ashton Smith Collections in the San Francisco Bay Area, Part 1: Letters to Samuel Loveman" by Mark Hall.
Selected Letters of Clark Ashton Smith reviewed by Brian Stableford.